Although the commercial vehicle market in China continues to decline this year, JAC commercial vehicles continue to rise against the trend. From January to May, JAC commercial vehicles ranked first in the industry with sales of 129,600 units.

As Jianghuai Automobile, which relied entirely on self-development, was promoted to the top three in the industry in the context of a depressed commercial vehicle market?

Five major upgrades to improve overall user satisfaction At the beginning of the year, JAC Commercial Vehicles launched the "Five Upgrades" including technology, products, quality, services, and networks. In fact, it is a further improvement of the overall capacity of the JAC commercial vehicle system. The first is to increase users. The second is to increase the brand competitiveness of JAC commercial vehicles.

The launch of the Shuailing III narrow-bodied version is a representative of the upgrade of the JAC light truck technology, which means that after the JAC commercial vehicle has developed the world's top light truck technology platform, it has formed a rich and complete product line. New batches of new products, such as the micro-gasoline/natural gas dual-fuel "great micro-cards", natural gas heavy-duty tractors, new platform heavy-duty trucks, dump trucks, and a full range of school bus chassis, have become a weak commercial vehicle market this year. A beautiful landscape. At the same time, it has upgraded its existing heavy-duty trucks, light trucks, and passenger car chassis, and introduced new products and regional adaptive products with more performance and configuration upgrades, which has brought the product lineage and personalization to a new level. Technology upgrades enhance the value of the product, allowing users to directly feel the gold content of the JAC commercial vehicle brand.

In terms of quality upgrades, JAC Commercial Vehicles has established a comprehensive quality control system in terms of quality awareness, system standards, and method tools. It has implemented a series of measures including standardized management of processes, standardization of on-site operations, continuous advancement of system standards, and optimization of quality management processes. The company has formed a high-level manufacturing process assurance capability with JAC's characteristics. At the same time, JAC Commercial Vehicles has continuously improved the quality of its parts and components through the consistent standardization and research and development of supporting systems, which in turn extends its quality management to sales, service, and spare parts supply. The omni-directional value chain continues to improve product quality. The brand image of the JAC commercial vehicle "technology leadership, high reliability, low maintenance frequency, high residual value in the used car market" has been deeply rooted in people's hearts.

In view of the overall low service level of the commercial vehicle industry, JAC Commercial Vehicles will focus on deepening and innovating its services this year. With more humanized service initiatives and standardized service processes, it will surpass current commercial vehicle service levels and allow users to experience a Warm, caring brand of JAC commercial vehicle. Among them, the "beautiful service" tailored for Shuailing users has become the target pursued by competitors.

Up to now, JAC Commercial Vehicles has more than 1,200 service stations nationwide, covering a full range of prefecture-level and county-level markets in 31 provinces, municipalities, and autonomous regions, and maximizing the convenience of customers in buying, servicing, spare parts, and other needs. This year, for key markets and emerging regions, JAC Commercial Vehicles continues to expand the standard 4S store system, attracting high quality social service providers to join, "please come in" and "go global" to promote a comprehensive upgrade of the service network and continuously improve customer service satisfaction. In addition, after two years of operation, the JAC Commercial Vehicle "JAC Smooth Pure Parts" has formed an independent sub-brand, built a complete VI logo and a sound total distribution and 4S shop system, creating a part for users to purchase spare parts for the original loading of vehicles. Smooth channels to achieve a two-way increase in user value and brand value.

The new product experienced a new brand value of the commercial vehicle market overall performance is weak, but JAC commercial vehicle new one after another. The JAC Shuai Ling III narrow-body high-end light trucks, which were listed in Guangdong in April this year, have brought leading-edge technology, first-class quality and highly-affiliated prices to the city's logistics and distribution, public services, and small and medium-sized urban transport users such as SMEs. A new value experience.

Subsequently, the first petrol version of the truck branded by the JAC Luck Light Truck brand, the micro-gasoline version, was officially listed at a price of RMB 34,200. As the country's first 'large micro-card' model, Haowei fills the market gap between light trucks and micro-cards with its inherent advantages of 'cars and carriers' and provides an ideal solution for the 'last mile' of logistics transportation. . Not only that, in order to meet the needs of some regional markets for the use of natural gas, JAC Haowei conducted a dual-fuel design at the beginning of R&D. Vehicles need only simple modification to realize the dual-fuel system of gasoline and natural gas, avoiding the need to modify natural gas systems. There is a matching issue. This product idea from the user's point of view enhances the user's trust in the JAC commercial vehicle brand.

Similarly, for the school bus market, JAC Commercial Vehicles has launched a full range of school bus chassis covering 5.5 to 10 meters. With years of experience in professional chassis manufacturing and absorption of Navistar school bus technology, the JAC bus chassis has become the mainstream product on the market.

In the domestic commercial vehicle industry, the consistent impression of Jianghuai Automobile to the public is low-key and pragmatic, and the user's feeling is that the product is trustworthy. According to statistics, from January to May this year, Jianghuai Light Truck Co., Ltd. achieved a total sales of 100,000 vehicles, making it the only brand to maintain growth in the three major brands of light trucks. In the unfavorable situation in which the overall sales volume of the passenger car chassis market dropped by 2.08%, the JAC bus chassis sold a total of 10,000 units of all kinds of passenger car chassis, which was an increase of 1.5% against the market. JAC heavy truck sales exceeded 12,000 units and ranked seventh in the industry, consolidating its market position. In this regard, Zhao Houzhu, general manager of JAC Commercial Vehicles Corporation, believes: "Quality is the basis for the survival and development of JAC vehicles, but the quality of JAC commercial vehicles is continuously improving with the development of the times. Market performance has repeatedly proved that JAC is committed to quality. The 'Five Upgrade Actions' that are continuously improving are in line with the expectations of users for JAC commercial vehicles."

The fourdrinier fluted paper making machine is mainly used for making top grade fluted paper, corrugated base paper, medium paper, high quality light-weight paper (culture paper, newsprint, light weight specialty paper). This kind of peper machine needs to chosse papermaking type, dewatering structure of press section, arrangement of dryer cylinder group, sizing and finishing equipment according to different paper grades and operating speed requirements.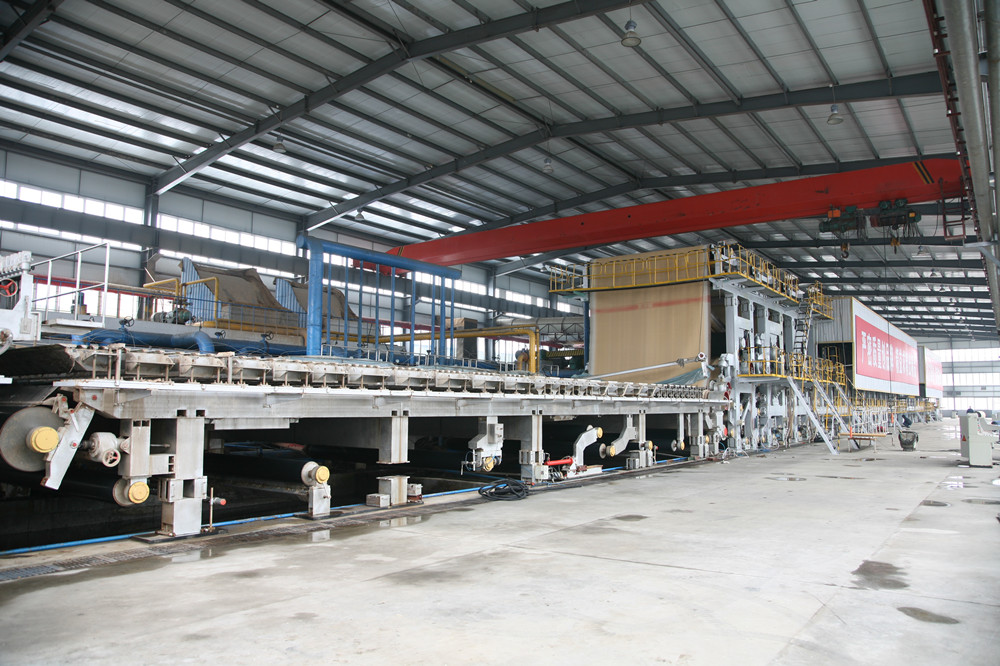 Fluted Paper Making Machine, Corrugated Paper Making Machine

Dandong Tianshin Automatization Technology Co.,Ltd , https://www.paper-machine.com