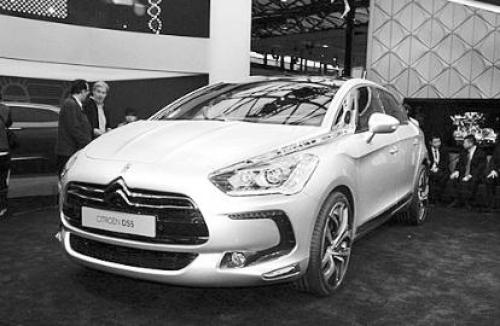 Recently, this website conducted an exclusive interview with Mr. Jia Ke, Vice President of Changan Peugeot Citroën, and Mr. Duan Lianxiang, Deputy Director of R&D Center. He discussed topics such as the DS brand, DS 5LS product positioning, and disputes between independent and non-independent suspension. The following are specifics. content:

Reporter: The DS brand has a glorious history in France, but for Chinese consumers, they do not understand the history of DS. For them, DS is just a brand new joint venture brand. With the DS5 that has been made in China and the DS 5LS that will be made in China, how do we want Chinese users to look at the DS brand?

Jacques: In the 1960s, many German consumers did not choose to buy their own cars, but bought a lot of DS. In France, DS is the most successful French high-end car brand, which is why we want to create high-end brand DS in addition to Peugeot and Citroen. In the 1960s, DS was also the driver of President Charles de Gaulle. So how do we position DS in China? We have positioned it as an independent high-end brand. It is not Citroën, nor is it Peugeot. DS 5LS has no Citroën logo. Instead, it is an independent logo that represents an independent brand. We inherited the innovative spirit from Paris to create this brand. From the technical point of view, its performance is very good, and it is exquisite and exquisite workmanship. We chose to publish the DS 5LS at the Louvre in Paris, which is intended to convey to Chinese consumers that this is a Paris-original sedan. It also represents a leading French-style living experience and the embodiment of French craftsmanship.

Duan Lianxiang: I just learned that you are two problems. One is about brands and the other is about products. I'm talking about the product. In fact, the DS5 may not be familiar with you. You used to drive it before, and you test it. The DS 5LS is actually a DS5 sedan on the same platform. Currently we are developing a series of products and technologies, including new technologies such as powertrains. In order to support the development of the DS brand, our product input speed is very fast. We announced the launch of the new DS5 on September 28 last year. The current DS 5LS is only half a year away. About half a year later, we will launch a brand-new SUV, followed by a series of products. So we invested a lot of energy and time and we will supplement the entire DS product system with a comprehensive product line. Secondly, the quality of the DS cars made at our Shenzhen factory is very high. We have always said that our goal is to build cars in China, but our quality can not be lower than the level of imported cars, in some aspects the standards are the same, and even some aspects of the standard we have to be higher than the requirements of imported cars, in fact We have also made a commitment to our customers. In the third aspect, DS has done a lot of work in environmental protection in order to support brand development. The environmental protection that I talk about is not just the environmental protection of vehicles. For example, the emission of vehicles is relatively low, the smell inside the vehicle is relatively good, and the VOC is relatively low. At the same time, we also emphasize the environmental protection of the factory. The lighting of our factory is LED. The water in our factory is recycled. The air conditioning in our factory is not a direct use of electricity. It is a way of storing water energy. In addition, the emissions of our vehicles have now reached the national standard of 5, and they are also very good from emissions to fuel consumption. We are closely planning high quality products from all aspects and meet the needs of Chinese customers to support such a brand.

Reporter: Our first domestically produced car chose the DS5, a genuine product that represents the French romantic style. Why did the second car choose the DS 5LS? In my opinion, DS 5LS is a mainstream sedan that is closer to Chinese users' aesthetic style and spending habits. Why are the two cars from the same platform, but the style difference is so great?

JACK: The reason why we chose the new DS5 as the first domestic model is because it has a very special shape, a very strong sense of design, and the use of materials is very good. We want to use the new DS5 as a product that can locate our brand. We want our customers to feel that it is superb and the design is first class. So we chose this model as our first branded product. The second product is the DS 5LS. This is our core product. Its design and other aspects may not have the new DS5, but we know that there are a lot of customers in the Chinese market will be willing to choose the sedan, so this is Why do we put the new DS5 as the first product, then the second one is the DS 5LS. We first use the DS5 to convey our brand positioning, and then we use the DS 5LS to meet the needs of most Chinese consumers. This is our strategy.

Duan Lianxiang: The new DS5 is a brightening feeling to others, but we are consciously returning it to the traditional DS5. However, the return does not mean that we are the so-called ordinary, in fact, our shape is carefully looking at is very patient, and closer to the aesthetic concept of Chinese consumers, so we want DS 5LS to carry more of our sales, because if the car if Without quantity, our company cannot survive, so quantity is very important.

Reporter: Is the appearance of the DS 5LS designed from the French headquarters?

Duan Lianxiang: Yes.

Reporter: Are Chinese designers involved?

Duan Lianxiang: We have been working together. The styling is done in France, but the Chinese staff will be involved in different project nodes.

Reporter: Where did the DS 5LS market research work?

Duan Lianxiang: The market research was done in China. After the whole model was made in Europe, he returned to China to do customer research.

Jacques: DS 5LS is a product designed exclusively for the Chinese market that is not available elsewhere.

Reporter: It seems that the French cars are relatively small and compact, and the sedan is rare. The DS 5LS does not feel like a traditional French car.

JACK: Yes, when the DS 5LS is put together with the same class of cars, we are longer than it, a little higher, and better overall. This is the first point. Secondly, we also know that Chinese customers prefer to work on materials. The DS 5LS's front grille design is called "DS Wings." We have chrome-plated wings embedded in the headlights. This is very difficult to do. We did it, and it was very successful and very beautiful. Looking at the taillights again, the design of our rear taillights is also very characteristic. We are a 3D three-dimensional rear taillight with a circle of light guides that feel like a tunnel and can suck in the eyeballs. In addition, the DS 5LS's all-leather interior is unique in the same class of cars, with all-aluminum and solid wood, to meet consumer demand for interior materials.

Reporter: In other words, the interior of the DS 5LS is also designed for the Chinese market.

JACK: Yes, DS 5LS is newly designed for Chinese customers. For example, we added air conditioning outlets in the rear seats, such as touch-screen GPS, which are not available in European models. We are also equipped with DSCONNECT telematics function on the car model. For example, GPS navigation function can press a button on the roof to directly connect the call center and inform you of the destination you want to go to. It will directly put you in need. Maps of location locations are sent to your car. For example, WIFI can also be enjoyed in the car, which is very valuable to customers.

Reporter: We have just talked about some points designed by the DS 5LS for the Chinese market. There are definitely close cooperation between the Chinese and French designers and engineers. What is the biggest challenge in the cooperation between the two sides? How do people cooperate when confronted with some conflicts?

Duan Lianxiang: Actually, it is not a challenge. I think there are two things that are crucial: First, as the Chinese side, we must tell the Chinese customer's needs clearly to the French designers and engineers and let them press. Our needs to design our products. Second, when the French side completed the entire design, in fact, our engineers still have a very important job. According to the design requirements, we can make products and meet the requirements. In fact, the most important thing for these two jobs is to not complain to each other. We are talking about a team, a process, a place, a goal to do things. We have been working in CAPSA for many years. It can be said that there are few quarrels between engineers, departments, and between France and China. We have more time to sit together, understand each other's feelings, how to make our brand better, and how to put our product quality to good work, rather than sticking to a certain thing to fight for you or me. Just now you mentioned a cultural issue. I did not cooperate with France before. I think that Chinese culture is very similar to French culture. For example, I used to work with Americans and Japanese before, but I also have a good relationship with Americans and Japanese. I have a good relationship with my job, but I do work. Afterwards, we speak Chinese in different ways. But the French side is different. The French side can fully integrate into our Chinese culture on our side. They not only work together when they go to work, but also engage in some activities when they come off work. On the weekends, they also work together to engage in some activities. The local employees in China introduced to the French side where Shenzhen is more fun and delicious, where China is more fun and delicious, and they will be organized together. I think it is very good and they are well integrated. For example, in Changan Peugeot Citroen, everyone communicates in English because we think this is an international company. All of our information here, all meetings, are basically all in English, to ensure that the two sides can understand each other.

JACK: Two years ago this company did not exist at all. We started this company from scratch. There are people from the PSA parent company, there are also people from Changan, and some are hired from the local staff. We built our company with Changan Peugeot Citroën, not Chang'an or PSA. It is a brand-new approach, so we rarely quarrel over this type of work.

Reporter: Ask a question that is of great interest to both editors and netizens. There are many disputes about independent suspension and non-independent suspension. Some netizens regard whether or not the independent suspension is a basis for the strength or weakness of the chassis of the car. I would like to know how the two engineers view this. Yes?

Jacques: From the market point of view, D-class cars (medium-sized and medium-to-large-sized cars) must have independent suspension. From the C-Class (compact car), most of them do not use an independent rear suspension, but a non-independent rear suspension. PSA has very strong technical ability and professional knowledge in the adjustment of the chassis. Non-independent suspension can also be adjusted to the level of independent suspension. For example, when the Peugeot RCZ was introduced to Germany, the German media expected that the RCZ, which is a non-independent rear suspension, would not be as good as the chassis control, but was very surprised after the test drive. It was even more independent than the same level. Suspension car control performance is even better. To tell you this example, that is to say, we have the ability to make a non-independent rear suspension vehicle as good as an independent rear suspension vehicle. This is why we now use non-independent rear suspensions for most vehicles. If we enter the D-Class (medium and medium-sized vehicles) market later, we will certainly have an independent rear suspension.

Duan Lianxiang: In fact, from a technical point of view, the design of the suspension is nothing more than considering several aspects: first, comfort; second, handling; third, durability; fourth, weight. Non-independent rear suspension is very advantageous in terms of durability and weight. Let's go back and talk about comfort and maneuverability. Jake's example is just to prove that the non-independent rear suspension car can also have good maneuverability. In fact, many non-independent rear suspension models also have excellent comfort. I will give you a simple example of GL8. Do you think GL8 is an independent suspension? The GL8 is not an independent rear suspension, but who said that the GL8 is not comfortable to sit up? Let's say Toyota Elfa again. It's not an independent rear suspension, but it can sit comfortably.

When we talk about controllability, in fact, as an independent suspension, if the independent suspension does not have a rear stabilizer bar, its handling will be very poor, and the rear wheels will easily cause side slip and tail flick. To solve this problem, they added stabilizer bars to the independent suspension to connect the two wheels. In fact, the rear stabilizer bar acts as a non-independent suspension. Now with the advancement of materials and adjustment technology, it is technically possible to balance the comfort and maneuverability of a car. We all blamed us for the non-independence rear suspension. However, good or bad, I suggest that everyone try the car and come to a conclusion. For the DS 5LS, our suspension adjustment will be softer than the DS5 to meet the needs of Chinese customers for row comfort. To sum up, I think the dispute between the independent suspension and the non-independent suspension cannot be a dispute between the two terms. It is not a question of whether the independent suspension and the non-independent suspension are superior or inferior. Ultimately, it is to see if the suspension is in accordance with you. Requirements for the car. I think that a company that does not have excellent tuning ability is not good with what kind of suspension.

Reporter: Can I understand this way, that is, to achieve a set of suspensions with the same performance standards, independent suspension is easier to implement, and it is more difficult to be independent of independent adjustments?

Duan Lianxiang: You are quite right. As far as the independent suspension is concerned, adjusting its comfort and control to a balanced tone is very good. It is actually adjusting the strength of the rear stabilizer bar, but not the independent suspension. This is relatively difficult.

Reporter: I feel that PSA's chassis tuning is a little secretive. What are our good experiences?

Jacques: In the adjustment of the chassis, we will open a summary meeting after each adjustment. After the summary meeting, we will allow about 20 to 30 Chinese employees to test drive the car after the adjustment. How is it? Among these employees is not only experts, but also our customers, users, and then we decide what kind of adjustment will be next.

Duan Lianxiang: The technology here is on the one hand, and the attitude still occupies a large part. We made a tune after listening to the voice of Chinese customers.

Reporter: The Shenzhen factory is a brand-new factory. Where is our lead compared to the PSA European factory?

Jacques: Because Shenzhen factory is the latest one built by PSA, this is our only factory that produces high-end brand DS. In China, Europe, South Africa, and other countries, there are factories that produce mainstream brands and also produce high-end brands, but on our side this factory is specifically designed to produce only high-end brands. When designing this factory, we insisted on quality, and the design of the factory is relatively compact in terms of area. We have a plant of the same capacity that is 1.5 to 2 times smaller than it is. Moreover, we are very close to the workshop and the workshop. When we want to solve any problem, we can solve the problem immediately by walking past the workshops. If you have a very large area in other factories, you need to go by car to get to other workshops. In the workshop we use the best technology available today and we have invested in the best equipment and technology. For example, in our press shop, our press is automated, its speed and power can be directly controlled, and it can also do some complex inspections. There is the control of the process, we can use this technology, then we can put this part of the process in a good range, and do not let it over stretch, so the appearance will be very good.

Reporter: As a young brand, how does DS control product quality?

Duan Lianxiang: We can now do a hundred percent inspection for each car. The dimensions, welding quality, dimensional accuracy, and clearance gap are bad. If not, go back.

Jacques: If the detected effect is not good, it will be reworked until it is 100% passed, and 100% will not enter the paint shop without quality problems. Because we have used this technology, our technical standard of size difference is a relatively advanced standard in the automotive industry. For example, the gap between the doors of our car is 3.5 mm, and the gap between some brands is 4, Some are 4.5. If you can compare the 4 mm gap car and the 3.5 mm gap car, everyone will immediately feel the difference. In our assembly shop we have a 2000-meter long test track with many obstacles. Our cars are 100% tested through the test track. Through this test runway, we can solve some problems with the car. For example, if there are any abnormal noises on the car, we can enter the repairs immediately if there are abnormal noises in the car. We didn't sell the car to the customer until we tested the car on the 2km long test track with no noise or other defects. We can only use this high-end technology to control the quality of the whole car in this factory, which is a factory directly for high-end car brands. These other mixed factories, which are produced by mainstream brands and high-end brands, cannot do so. Our factory is a factory that uses energy efficiently. The energy consumption per kilowatt per hour produced by each car is half that of other factories. Mr. Duan also mentioned just now that all of our factories use LED lighting, which is also very effective in energy consumption control. In the paint shop we used a compact process and we reduced one of the heating processes.

Reporter: Which time did you reduce?

Duan Lianxiang: After the general primer has been baked, once the finish has been painted, it is baked once more, and then the varnish is sprayed. We canceled the previous one, usually twice. We only bake once, bake once to save energy and reduce emissions.

Reporter: Does the coating quality affect it? Because twice before it must have two reasons.

Duan Lianxiang: There are two reasons for this twice, but our technique is to bake it once and we can achieve the same quality.

JACK: There is also a standard in painting quality. We have adopted these standards. The quality level of painting can also be the same quality as Audi and Lexus models. To sum up, because our factory is the newly built factory, it is more efficient in energy use and energy consumption control, and it is also an advanced factory led by quality.

Reporter: What is our current investment in research and development?

Duan Lianxiang: Our R&D center has invested a total of 500 million yuan, excluding land. If we want to include land, it is probably around 7.5-8 billion yuan. After the completion of the R&D center, we can do engine experiments, vehicle experiments, emissions experiments, vehicle environment experiments, vehicle vibration experiments, and electronic and electrical experiments, and new energy experiments, all of which we can complete on our own. We can do all of the above except for safety collisions that we cannot do and electromagnetic compatibility cannot do. At the R&D center, we also built a relatively good runway that can test vehicle speed, braking, and performance. The time for the completion of the R&D center is at the end of 2014. If the time comes, you are welcome to come and have a look. Let's take a look at how our car does this experiment in the laboratory.

Jacques: Our engineers are undertaking more and more design activities. In the first model, PSA's engineers took on more work, but in the third fourth project, the employees of our CAPSA side participated in the activities. And more and more work has been undertaken.

Reporter: Finally, to ask a question, how much local production can we achieve now?

Duan Lianxiang: The first DS5 localization rate for our first product is not high, because we were relatively short at the time and were relatively hurried. However, over time, this is also a requirement of the government. We must continue to do some things, but we say that the premise of domestic production is not to reduce costs. The precondition for domestic production is to better ensure the quality of production. The premise quality of localization is first. We will not use this part if this part is not signed by CAPSA. Let's take the new DS5 as an example. We now look at our quality level and look at our after-sales quality level. We are not worse than Europe at all. There are a lot of domestically produced suppliers. Domestically produced suppliers have many very strong suppliers. Like Michelin, our tires are also made by Michelin. In fact, as long as you choose a suitable very good supplier system to do this part for you, do not worry about quality problems, but instead domestically produced parts will be more able to adapt to the requirements of the Chinese market. However, some OEMs choose some very poor suppliers in order to reduce costs, which may not be guaranteed. When you look at our car, we all choose a first-rate supplier. We are very proud of it. We think that these teams are compatible with our brand. We don't want to choose a workshop-type supplier to reduce costs and do something. Come to injure customers.

JACK: We can't make any mistakes in quality because we are new companies, so we can't make any mistakes in quality. If this quality is good, some people may not buy our car. If the quality is very poor, then certainly no one will buy it. We will guarantee the quality of our suppliers. Each supplier's choice will be supervised by two people together. We also have a procurement process with the Purchasing Department. We will evaluate each of them on their technologies and their processes. Certification. Before we can see how much it costs, we first ensure that its technology is fine and we only look at its price.

Reporter: Thanks for the two interviews!